Art Qad Architects
Founded in 1990, ART QAD Architectes is an architecture firm that specializes in building restoration in Paris. Since its inception, ART QAD Architectes has been working with real estate companies to restore Haussmann-style residential and commercial-services buildings. With every project, whether apartment or office, we give great consideration to how the spaces will be used by their occupants, an approach that allows us to update the building for contemporary usage while retaining its historical nature and restoring the uniqueness that distinguishes it from neighbouring properties. To achieve our projects to the best of our abilities, we hire specialized architects and decorators with extensive experience in the luxury sector. Success on large-scale projects is possible only when the client and project manager come together and join their expertise. One of our past projects include the buildings entrusted to us by Groupama Immobilier, which we transformed to increase their value.
The rehabilitation of 97 avenue Victor Hugo seen by ART QAD
This bourgeois, archetypally Haussmann building had good and bad qualities in equal number: high ceilings, large foyers, and fine materials, but also outdated floorplans, a dearth of rooms, and apartments that were considered overly large given the neighborhood they were in.
LUXURY PIEDS-À-TERRE.
"We wanted to turn the building's family apartments into pieds-à-terre for high-end international clients accustomed to staying in the finest hotels.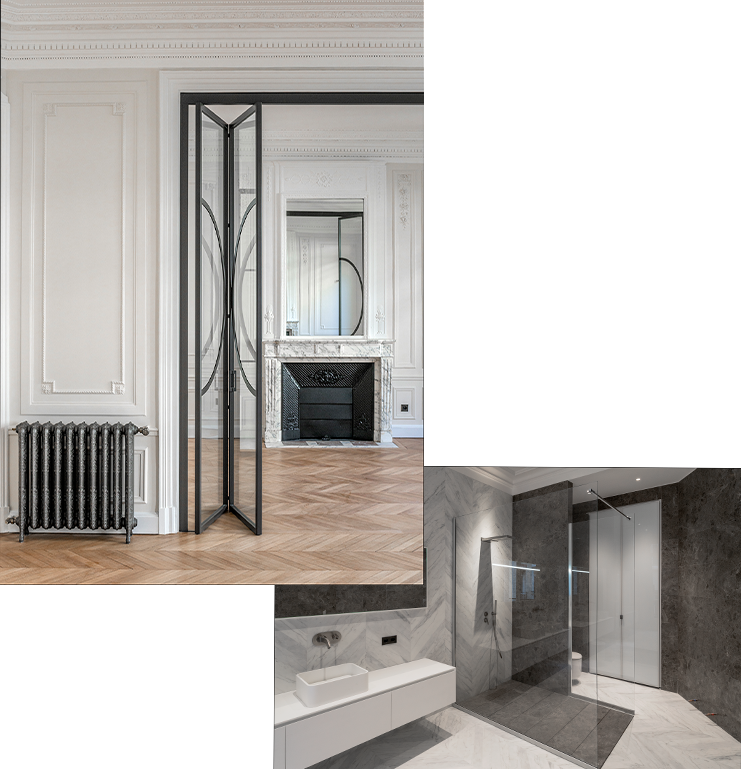 We took the customary trappings of hotels and fitted them into a residential building, and in doing so created a prestigious location and a new way of looking at living spaces.
Along the way, floor space that was once deemed excessive (averaging 320 sqm) suddenly became a boon.
But the real challenge was in starting from scratch when designing each apartment. We put a great deal of thought and effort into allowing for all the different ways a space might be used by someone who spends time living in many different countries, from China to America to India. We were able to find the traits each design had in common and use those in our interior design."